GET FIT AT PULLMAN MELBOURNE ON SWANSTON
BOOMROOM BOXING
**Please note, Boom Room Boxing at The Pullman Melbourne on Swanston is temporarily closed.**
Open to Melburnians and hotel guests alike, BoomRoom Boxing offers the ultimate feel-good workout. Enjoy 30 to 45 minutes of high-intensity group boxing and strength conditioning classes set to heart-pumping beats. A bespoke playlist has been curated by Aria award winner's Feenixpawl, making music the motivating force behind every session.
The workouts will have you pumping through rounds of Boxing to heart thumping music on our innovative water-filled Agua Bags, followed by ground pounding floor strength and conditioning exercises. Don't worry it's beginner friendly and designed to whip you into shape, but can also accommodate the seasoned professional. Schedule your class today!
The studio boasts modern and chic interiors, setting the tone for a vibrant atmosphere, meaning each BoomRoom Boxing class will elevate and inspire.
Hotel guests can workout casually at BoomRoom Boxing whenever they like. Simply book your sessions using your in-room digital concierge system and pay as you go with the handy mobile app.
Pullman Melbourne on Swanston guests have access to a special reduced price per BoomRoom Boxing class and are granted priority access ahead of general patrons. Discount is available to hotel guests once checked in and is bookable through digital compendium tablet available in rooms.
In addition to the BoomRoom Boxing studio, the hotel also offers guests complimentary use of the gym on Level 1, which is equipped with state-of-the-art weight training and cardio machines.
The gym is opened daily 6:00AM – 10:00PM.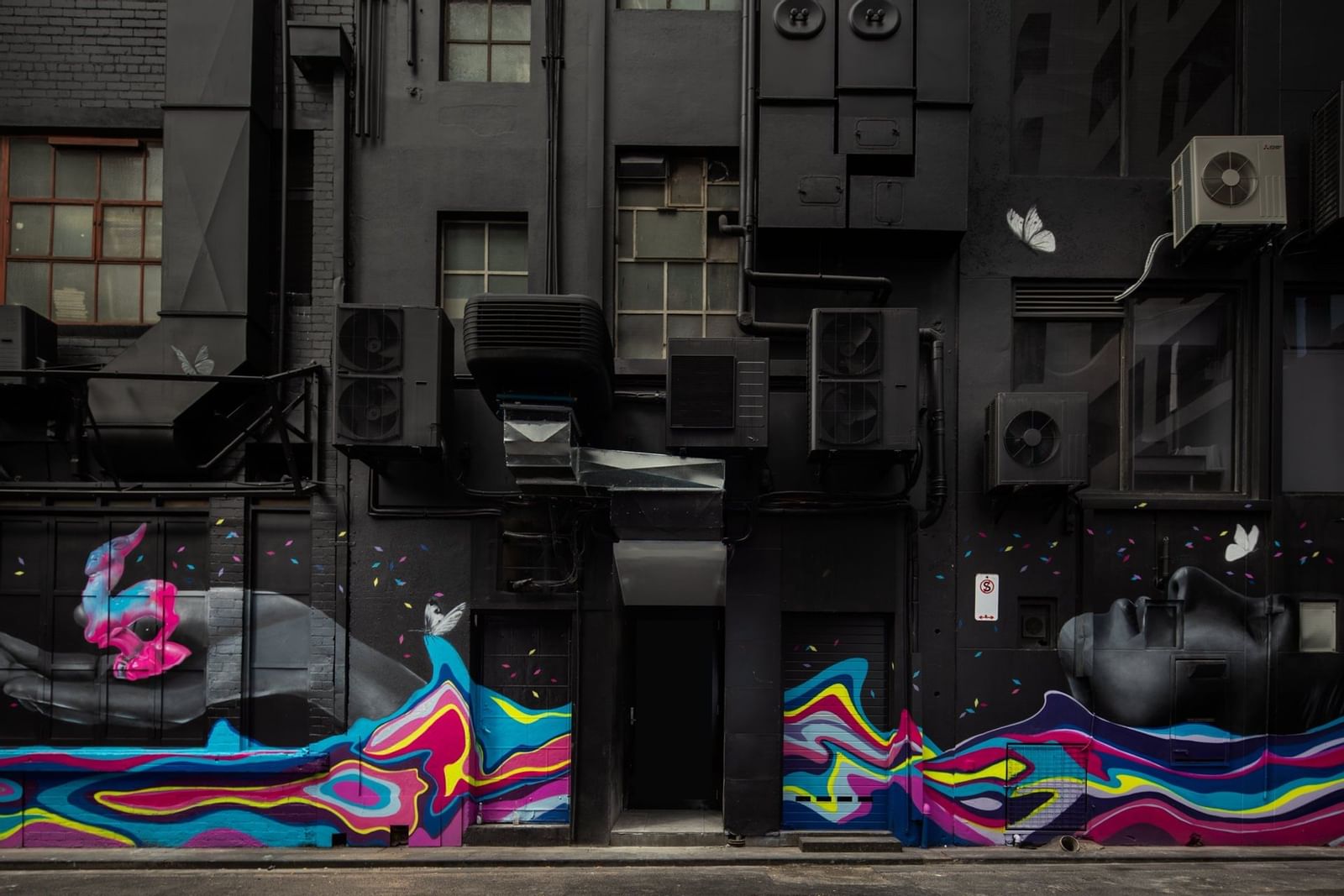 SURROUNDED BY STREET ART
Situated alongside the intriguing laneway entrance, is a collaboration of new world and old school graffiti artists Lisa King & Vexta.
From heights, the largest art work created by Cam Scale is situated on a 40m high by10m wide wall on Louden Place, can be viewed from adjacent rooms as well as Swanston Street. The mural depicts an image of Dr Leslie Erdi OAM, who with his wife Eva, were much-loved figures within the hotel and wider community.
Les was a well-known philanthropist and generously gave to a list of notable institutions across Melbourne. The mural pays homage to Les' connection to the hotel, his impact on the community and remembers him as the heart and soul of Erdi Group.